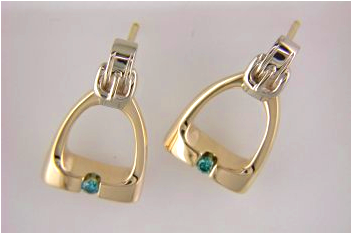 Stirrup Earrings in 14k Yellow & White Gold with Teal Diamonds
The stirrup earrings feature the addition of stirrup leathers done in your choice of gold for those who like a slightly longer earring.  If you prefer a simple post earring you will love these! They also include .18pts total weight in teal diamonds (.9pts in each earring.) The detail put into these earrings is incredible! Also available in 14k rose & white gold combos.
*Please call or email for a quote on different colors of diamonds.